---
Goodbye 2022-23. It was a blast
---
Senior Speeches & News coverage
Aspen School District
AHS Q4 Yearbook Class present short films
Students in Sarah Ward's Q4 Yearbook Class present short films. Take a look.
Desire 2 Win- This film created by Adelaide Ryerson covers the boys' lacrosse team including their connection to and loss of Carson Clettenberg.
Who is Cam?- Created by Luna Murray, Stela VerHey, Anna Dangler, and Liv Ferrara, this film dives into Cam Daniel, who he is, and his life both in and out of school.
AHS Alums- Gia Galindo Bartley, Marybeth Clapper, Kate Scott, and Aidan Sunkel selected three AHS alums (Cory Parker, Barton Tofany, and Haylen Gonzalez-Pita to discuss their choice to come back and teach at AHS.
A Look into ASD Dog's Lives- Elsa Tullar, Kristine Hvolbaek, Kellar Leach, and Sasha Clifford explored the lives of dogs around the district.
The Story of Bart- The connection between Barton Tofany and Taylor Swift is investigated in this film.
Prama Documentary- Grace O'Callaghan, Gracie Brown, Susannah Goldsmith, and Olivia Cook created this mockumentary to explore the prom ask culture at AHS.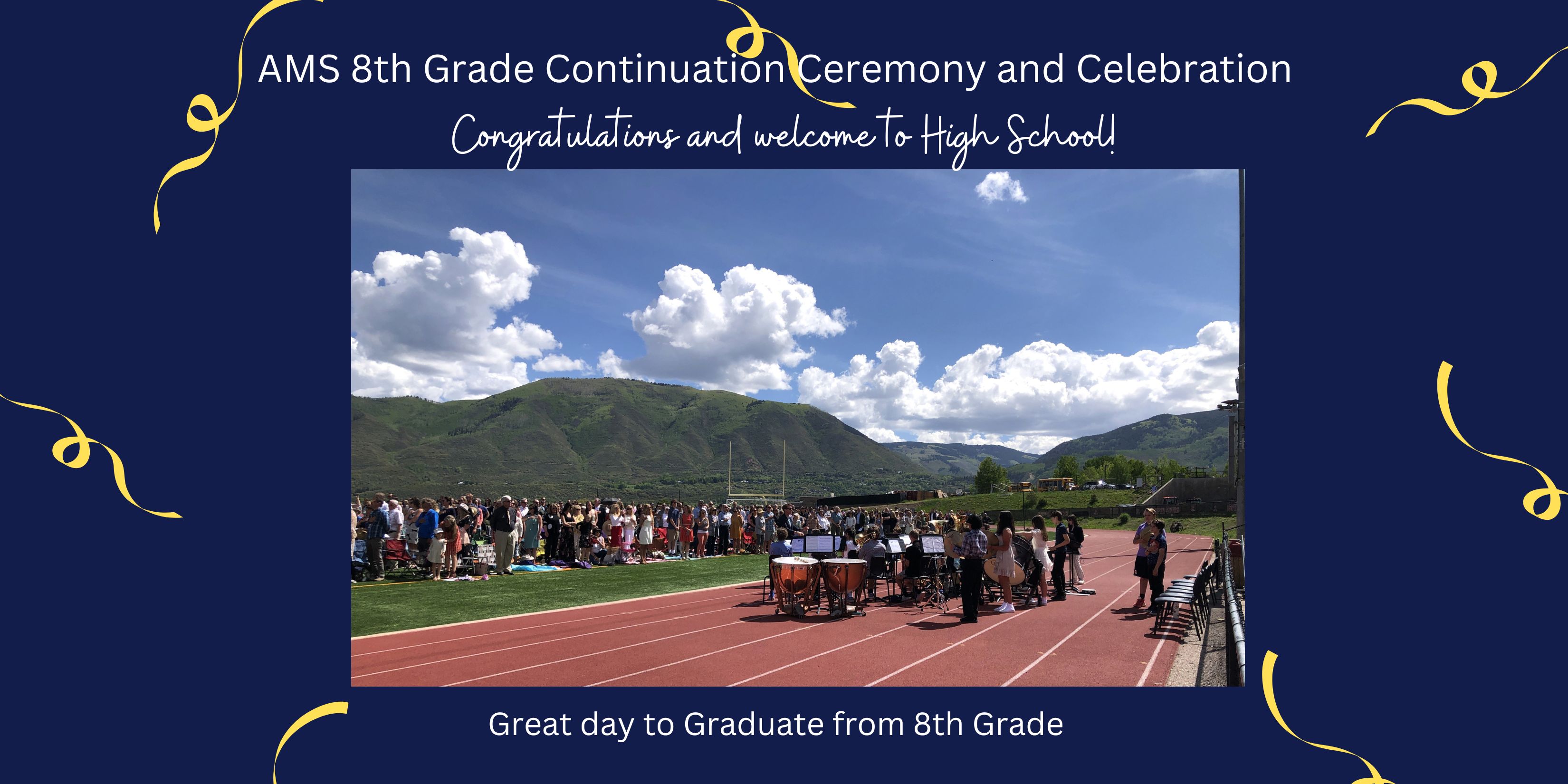 Aspen School District
8th Graders become High School Freshman
Aspen School District
AMS students recognized for leadership, positive attitudes in Outdoor Ed trips
Aspen Middle School students gathered one last time this school year to cheer on their fellow students, who were recognized for leadership during their Outdoor Education trips.
Camping, skiing, and a stand-in adventure at Sylvan Lake State Park (because the rivers were too high this year.)
"These students embody outdoor people," one teacher said.
And the winners are:
5th-grade winners of the "Kellie Schenck Award":
Emma Walker, Ella Yaw, Ardin White, Maddox Miller, Scarlett Taylor and Bashar Akkad
6th-grade winners of the "Super Skier Award"
And the winners are:
Sloan Bauer, Sam Striegler, Max Wisniewski, Abby White, Alfred Kaplinksi, Daylee Davidson, Boti Bartha, Siri Bassion, Beck Dunnett, Dalia Muresan, Harry Spitteler and Lilly Milton
7th-grade winners of the "Golden Boot Award"
And the winners are:
Peter Milton, Allessa Oliver, Ainsley Loeb, Sam Roach, Parker Loeb and Logan Chimelewski
Aspen School District
Teachers eke out a win over 8th Graders in EOY Basketball showdown
Aspen Middle School students fought hard until the final buzzer.
Alas, the 8th Graders came up one basket shy of tying the game and an opportunity to win in the exciting annual End of the School Year tradition of 8th Grade vs. AMS staff.
The game was dedicated to classmate Alex Villa Mihaylov, who passed away earlier this year. The students said the game was a "Celebration of his life."
Teachers were no push-overs as they headed to the court. They came in hot, working the ball. They had height on most of the 8th graders, but the 8th Graders had speed. And the crowd was clearly behind them.
At the half, the teams were tied and it looked like the Teachers were going to close it down in the second half. But 8th Graders came on strong, aggressive and determined. They caught up to the Teachers and then it was a nail-biting finish that could have gone either way.
At the buzzer, Teachers won 22-20; Until they meet again.
Aspen School District
Aspen School District Holds Training for Bus Driver Applicants
### **ASD offers Increased benefits** ### Aspen School District 's Transportation team will run its Commercial Driver's License (CDL) training course for bus driver applicants starting on June 12. This training will run Monday - Friday, starting at 8 a.m. on Monday, June 12, with our theory classroom portion. Applicants should plan on 8-hour training days for the theory portion and 4-hour training days for the behind-the-wheel portion. Upon completion of the course, applicants will have scheduled tests with the Rifle School District to obtain their CDL. The estimated time of training takes a month to complete, depending on the number of trainees and how quickly they pick up aspects of the training and develop confidence behind the wheel. ### **New in the coming school year:** The Aspen School District and Aspen Education Association agreed to new pay and benefits, effective July 1, 2023: **To attract and retain transportation staff, all transportation department employees will have immediate access to full employer contributions to their insurance starting at their date of hire, regardless of full-time status.** Finally, staff who waive ASD health insurance for 2023-2024 and can show proof of coverage via another means (e.g., spouse's employer) will receive a $3000 payment to a retirement or HSA account (more details on this will be provided). Driver Pay: * CDL Route operators that drive a CDL vehicle or a minibus as a coach or chaperone are paid their normal route operator rate, paid for only pre/post trip inspection time and behind the wheel actual driving time. [Click here for the 2023-2024 agreement on salary and benefit](https://go.boarddocs.com/co/aspen/Board.nsf/files/CS3SVK748768/$file/Joint%20Communication%20AEA%20%26%20ASD%20Negotiations%202023.pdf) [Click here for the agreed on salary schedule.](https://docs.google.com/spreadsheets/d/1WKc7gIGGRd-AAULy-OEl0tnyNUtkbv_hcXyPXMVLuCk/edit#gid=1224033595) Anyone interested in taking the CDL course can email.
Aspen School District
AMS New Clubs, More Fun
Meet the new Director of The Cottage
0235 HIGH SCHOOL RD ASPEN, 81611